Gold Bands and The Acorn China Cabinet...
It's true...I Struck Gold on my Silver Wedding Anniversary!
Really, if the truth be known I Struck Gold on December 27th, 1965 in Juarez, Mexico when I married HiHoney!
If you go there you'll read how HiHoney and I were Legally Married in Mexico, but Livin' InSin In Texas!
That was Forty-Five years ago...come this December 27th!
Here we are in 1990 on our Silver Wedding Anniversary....Twenty years ago...framed and posed in the Golden Oak Acorn China Cabinet!
Only fitting...as the Acorn China Cabinet, Table and Chairs was my
Twenty-Fifth Wedding Gift from HiHoney.
See I told you he was worth his weight in Gold....well okay...Golden Oak...and it really is Heavy!
During the Month of November, I am featuring 'The Acorn China Cabinet' and the Collections it has held during the last Twenty years.
You will see some of The Collection if you visit
Juno, Goddess of Love, Ole'.
The Desert
Gold
Domed Butter Server is featured in the Header and in the post below...
The Acorn China Cabinet
...A Family Heirloom in the Making.
And, did you know that the Month of November is considered the Golden Month? Well, at least by this Girl Raised In Texas....so, here's a Golden November Poem and a Golden Pumpkin for your Alphabe~Thursday Collection.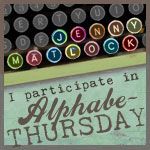 I'm sure you'll find more
Golden Words
when you visit Jenny and the Rest of the
Golden Gals
for more of the
Letter G
.
PS...Just in case you don't have time to read about the Legality of Our Mexico Weddin', I thought I'd better let you know that in 1965 Mexico Marriages were not recognized in the State of Texas....until the Mexican Certificate of Marriage was Registered in a Texas Courthouse. HiHoney and I registered ours a week later. Whew! It would surely be Scandalous...our
Celebrating Our Golden Anniversary of Livin' InSin
!